---
---
Say Bye-Bye to Blackheads..!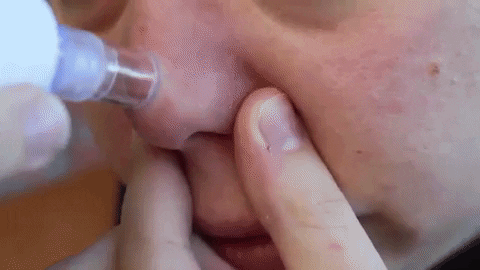 Battling with blackheads? Suffering and dealing with breakouts and acne, maybe oily skin? We promise, you're not the only one! Maybe you're just wondering what the heck a comedone is? Simply put, a fancy word for blackhead - just a clogged hair follicle that contains oils, dirt, residue. When left untreated, it grows and expands, getting bigger and bigger on the skin
What can our Blackhead Vacuum Remover do?
Can be used to remove blackhead, acne and clean the face deeply and it is suitable for treating dry skin, sagging skin, dull skin and also wrinkles. Vacuum function cleans dirty pores through suction and increases blood circulation in the skin. Comes with 5 changeable beauty heads, which can offer different functions and offer a deeper clean for your facial skin.
How to Use
Step 1:

 

Be sure to have your face warmed with either a hot shower or warm towel for 5-10 minutes to allow pores to be opened and exposed
Step 2:

 

It's best not to remain in one spot longer than 3 seconds when using the device. Remember to move the device around in a direction along the way
Step 3:

 

Use a cold towel or cold mask to close your facial pores and apply facial moisturizer when finished
Time to build our bond.
At Dexi Owl , You inspire us to Get you unique products that people truly love. And if you are not satisfied with our products.
Don't worry! We have a way.... We'll happily refund you on any purchase made from Dexi Owl within 30 days .
Free Shipping on All Products
We promise to keep support available 24*7
---